Kyle Milne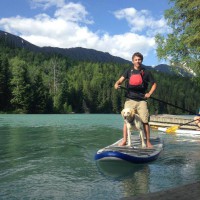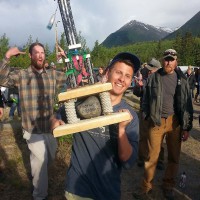 This young fellow is one of  a few that can say he's been guiding clients on the river since he was 13.  He's hard-working kid and an evil ping pong player,and fits in quite well at Alaska Rivers Company as a boatman. Kyle grew up in Cooper Landing, enjoying the fruits of our community and, at one point, was the only eighth grader in a school the size of 12 students. At 16, he had his first experience rafting and hiking the Grand Canyon and officially became an addict. When he turned eighteen, his long wait and love for baseball helped ARC win the coveted championship in 2014. Now he's an studying Civil Engineering at the University of Alaska Fairbanks in the off season, and plays in the back country whenever he can.  However, Kyle doesn't spend much time practicing ping pong anymore, which is really annoying because he still beats everyone.
Jesse Marion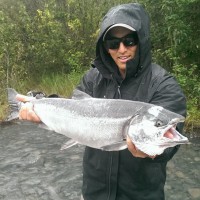 Since a small child an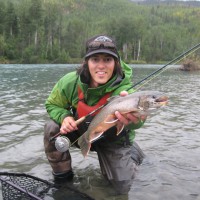 d he could crawl, Jesse has been coming to Alaska to visit family and fish the Southeast and South-central.  He has been a boatman and fishing guide with ARC for the several years and we haven't stopped laughing since we hired him. His dry sense of humor, monotone singing voice, free spirit, willing to try anything attitude and cussing at us in Japanese (well, we think he is) has been quite a joy to have around. In his spare time Jesse can be found mountain biking anywhere and everywhere in Cooper Landing, hunting squirrels and grouse and causing some kind of mischief.  Jesse recently completed his degree in Electrical Engineering from the Oregon Institute for Technology. And apparently he can ride a skateboard really, really well. (Seriously, the dude can skate.)
Ben Kramer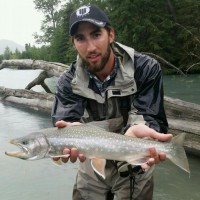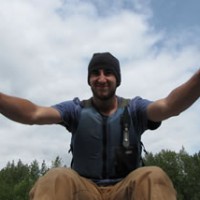 This 6′ 6″ gentleman is otherwise known as the "Giant". Ben is originally from Minnesota but has been coming to Alaska to visit his uncle in Anchorage and playing on our rivers since he was a pip-squeak. He's quite an athletic boatman—plays all sorts of sports like basketball, football, hockey, baseball, tennis and golf, plus hikes, bikes, skis, you name it. Like a true nerd, Ben's graduated from the University of Tulsa in Oklahoma with a double major, one in Biology and one in Environmental Policy. He'd also like the girls to know that he is exceptionally handsome, wealthy, single and, oh yeah, modest. (But remember what we say about boatmen!) But we love him anyway—especially since he always hits at least four huge home runs during our annual softball tournament that sets the crowds wild.
Drew Petrie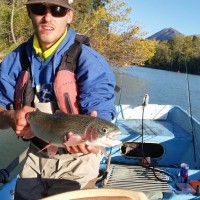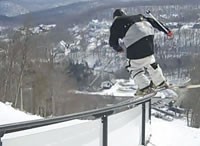 He's known as "Magic Legs" during our softball games because of his speedy form, which stems from being young and playing soccer throughout high school. Originally from Anchorage, Drew grew up fishing and playing with his family on the middle Kenai River.  Drew is one of those poor souls who has been raised in that type of Alaskan environment that leads to having a fishing and rafting problem. So of course he fits right in with our crew at ARC. And, apparently Drew can ski and do fancy tricks coming down a mountain too.  One of his favorite things to do is to go down a steep hill  in the snow super fast on these fat sticks, but backwards, and then jump and slide down metal rails with an occasional flip. Of course… doesn't everyone love doing that?
Jimmy Milne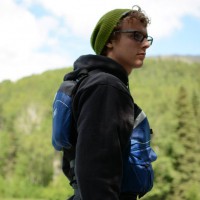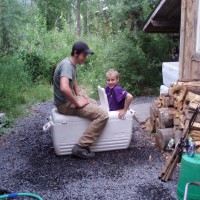 All you have to do is look at the photo on the right and you can tell that this boatman grew up at Alaska Rivers Company. As a child, he literally was found crawling in and out of coolers. But now that he is over 6 feet tall, you are more than likely to find him crawling in and out of rafts. Jimmy also grew up here in Cooper Landing, attending our little school, but now spends winters in the ski resort town of Girdwood.  From there he travels to high school in Anchorage, but still finds time to hit the slopes to ski at Alyeska Resort. During the school year, he does cross country running, and nordic skis for South High. He also is an excellent piano player. However he hasn't quite figured out how to fit a piano in one of our rafts yet to help entertain our guests. But he's working on it!
Krissy Route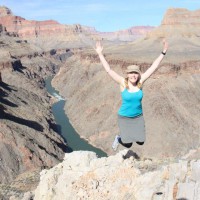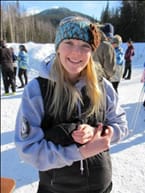 Krissy is one of our go-to gals who works in our office, a top notch naturalist for conducting hikes and helps running shuttles.  She graduated from Colorado State University with a degree in Park and Protected Area Management, and is currently going for her Masters at Alaska Pacific University. She is one busy gal, as she also works full time for AmeriCorps, and is very involved in educating our visitors and our little community on the impact of waste on our environment. That being said, be sure to not even think about littering around her… definitely not a good idea!
Kristen Lessard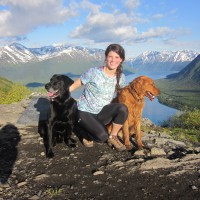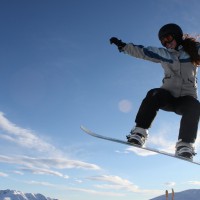 Born and raised in Alaska, Kristen grew up playing and fishing on the upper Kenai River and the trails around Cooper Landing. As a local, she helps her family with their fish camp just down the road. But because we'd always find her tromping around ARC  we decided we might as well make her work while she was in our yard.  (Actually her dad and her older sister have worked here to  so we thought she might have good boatman blood in her!) She makes a wicked rhubarb crisp, schools us all in softball, makes carharts a fashion statement and likes to hike, ski, climb and be outdoors as much as she can. She currently is finishing up her degree at the University of Wyoming for a major in kinesiology and health promotion.
Robin Spielman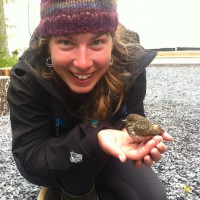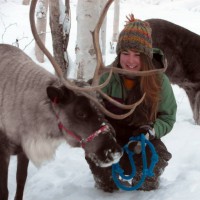 Robin is about as Alaskan as anyone can get. Raised in Fairbanks, and on a reindeer farm no less. Her story starts like many young girls, in which at one point when she was young she asked her parents for a horse. Typically this doesn't pan out, but in her case, she had to settle for a reindeer. And then that deal turned into a small herd!  Robin's has been on the oars since a young teen, and pretty much does every fun outdoor sport there is, from mountain biking, to back country and alpine skiing, to canoeing and hiking all over. Currently she's a student at the University of Montana pursuing a degree in Fish and Wildlife Biology.
Christie Lynn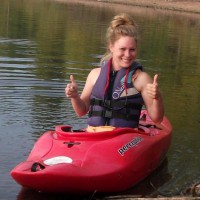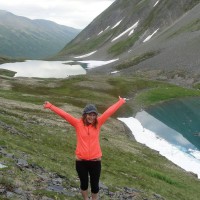 This hardworking Colorado gal moved to Cooper Landing a few years ago and had no problem fitting right in with our locals. Often you can find her out hiking our trails or kayaking, canoeing, or fishing around our lakes and rivers. Christie received her Outdoor Education Degree from Red Rocks Community College and shares her love for nature and animals with everyone she interacts with. She's a welcome addition to our ARC staff in the office and as a boat woman. Her positive can do attitude, infectious smile and laugh makes everyday at ARC and on the river with her a great experience.
Chris DeGeneres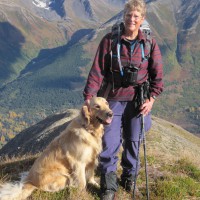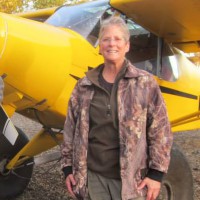 If you join us for one of our guided hikes, you may have the pleasure of going out with this wonderful Alaskan lady. An experienced outdoors woman (hiking, fishing, hunting, chopping wood… you name it), Chris is right at home hiking and tromping around the wonderful trails in Cooper Landing. (And it doesn't hurt that she is also a year round resident!) She is an avid birder and naturalist that loves to share her knowledge, so having her take you or your group out on a hike is a wonderful treat to add to your Alaskan experience.
Yvette Galbraith – ARC Marketing Coordinator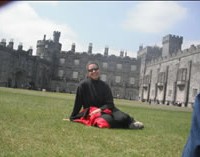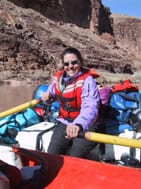 In 2003 Yvette was introduced to a handsome fellow that owned a rafting and fishing guide business on the Kenai Peninsula. After 3 years of dating, she found herself marrying this adrenaline junkie and relocating with her two boys (Kyle and Jimmy), their dog and her marketing consulting business to Cooper Landing. Yvette was raised in Anchorage and received her degree in Marketing with a minor in Tourism Industry Management from the University of Alaska Fairbanks. She owns and operates Alaska Marketing Consultants and handles the promotion of ARC. She loves to get away from her computer when she can, so you often can find her gardening or helping outside when needed. Also during the summer you may find her doing "extensive market research" on various raft trips or drift fishing with the employees, especially on gorgeous sunny days.
Our Dogs
Folks in Cooper Landing love their dogs. And at ARC, we love our canines. But just to clarify before we go any further: we love our dogs, not your dog. So when visiting our facility, please leave your pooch at home. We do not allow pets in our rental cabins and being left all day in your car (especially on a hot day) is just really lame for your four-legged best friend.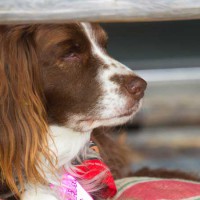 Jasper
The old lady and queen of the crowd. She's hitting 16 years in her stride. This old ski dawg gets mighty angry when her owners leave her at home when they go for a few turns, but her hips just are not the same. She is a little bit slower now, but still loves to ride with Erik on the front of his motorcycle or snow machine.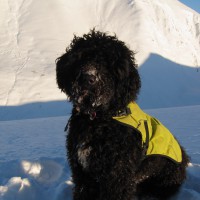 Capella
One word. Goof. Well two. Sweet Goof. She's a love bug and likes her pats, rubs and any attention you give her. She has been mistaken as a bear a couple times, so since she is loved so much, we have a tendency to decorate her in bright colors so hunters know better!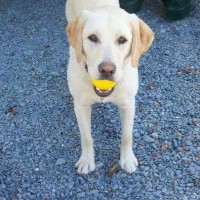 Blaze
She's the baby on the grounds and very spoiled. Yes, we promise you, she's been fed. She's a lab, she's always hungry. And think twice about throwing that ball or stick, unless you want a friend for life.