Enjoy the Tranquility
of the Upper Kenai
Fishing on the Upper Kenai River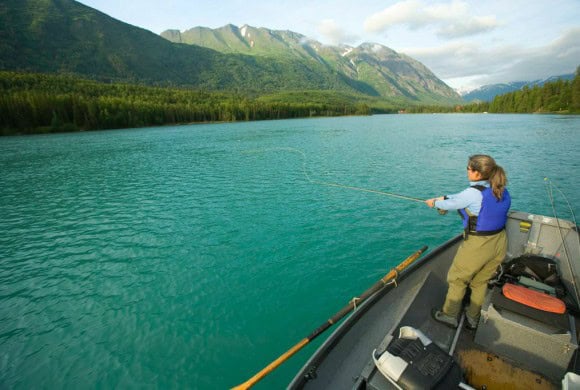 Let us take you away from the crowds and into some of the most productive trophy fishing waters in the state – all amid the Kenai's dazzling mountain scenery.  Alaska Rivers Company specializes in guided fishing on the upper Kenai River and has the special use permit for guiding thru the Kenai National Wildlife Refuge for the famous sockeye (red) and coho (silver) salmon, Dolly Varden, and trophy Rainbow Trout. Rainbows are carefully handled, photographed and released. We supply all the equipment and gear you need on your Kenai River fishing trip.  Fly fishing enthusiasts of all levels are welcome.
Our Fishing Trips
Full Day (7-hr) Kenai River Fishing
Savor this fishing paradise with a full day of Kenai River fishing. You'll have more time in the best spots and get a chance to work the backwaters and gravel bars that make this river an angler's dream. Plus, you'll enjoy a satisfying lunch and take home memories to last a lifetime.
Rates: $250 per person
Fishing Trip Requirements & What You Should Bring:
Confirmation – Due to Alaskan weather patterns, it is highly recommended that you have a confirmation for your reservation and departure time the night before your trip. We will try our best to call your party the night before, but during peak season and due to visitors traveling, please understand this may not be possible. We ask that if you do not have a confirmation in writing from us and if you have not had a call from us to please call, just to be safe! (Hint: our number is 907-595-1226!)
Arrival – Please plan on arriving a half hour before your departure time. We  are required by Alaska Department of Fish and Game and the Kenai Peninsula Wildlife Refuge to complete some minor paperwork that requires your fishing license information. We also need time to make introductions, gear up and briefly  cover fishing and boating safety requirements.
Fishing License – An Alaska fishing license valid for the day of the charter is required. Please purchase your fishing license in advance of your scheduled trip. Click here to buy your license online!
Warm Clothes – We recommend that you dress in layers. Try to bring wool or polar fleece as cotton holds in water and becomes uncomfortable when wet. A hat, gloves and non-cotton socks are also recommended.
Rain Gear – Rain gear can be provided, but your own may be more comfortable.
Polarized Sunglasses – We recommend bringing polarized sunglasses, if you have them.
Camera – Camera gear is encouraged and there is ample dry storage on the boat. You are responsible for your own equipment and we recommend that you keep it in a dry storage bag.