Company Outings
Alaska Rivers Company's location and activities are great for Alaska corporate retreats, executive retreats, business meetings, employee rewards and corporate incentive travel. Alaska Rivers Company is able to cater to organizations operating in today's fast paced business world, while providing an extremely enjoyable and memorable experience outside of the ordinary work or meeting environments.
Our previous guests include progressive, high-profile organizations including GCI, BP, Princess Tours, AT&T, ARCO, Odom Corporation, Pfizer, American Eagle Outfitters and more.
Why choose ARC for your company outing?
ARC is ideal for an informal company get-together. The magic of shared adventure develops a sense of renewal and team spirit among participants. Full day or half day events can be arranged for Fishing, Rafting and Hiking. Our beautiful private grounds locate on the river are perfect for a company picnic or barbeque.
Charter and Group Trips
Alaska Rivers Company has been providing Charter and Group Trips since 1974. If you have a group, whether it's BIG, small or medium, ask about a group discount and your options for guided fishing, scenic rafting and hiking.
Group Trips – are available to a group of any size wishing to travel together on any one of our existing departures. Depending upon the departure, group trips may or may not include other ARC guests
Charter Trips – are an exclusive departure on an existing ARC excursion for your group only. This means your departure time is exclusive and is not offered or available for general sale – it's just for you and your group.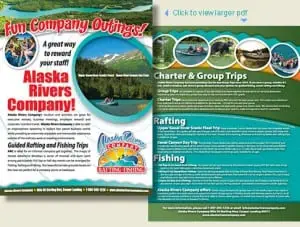 Call us to discuss your ideas, needs, excursion activities, dates and applicable group and charter rates. We recommend contacting us in as far advanced as possible to allow adequate time to discuss your options, make arrangements and for availability.
Alaska Rivers Company offers:
Experience guides who understand and support the needs of group dynamics.
Numerous activities to choose from that cater to small to large groups, no matter what size or age.
Ample Parking and turn around for buses and charter vehicles.
Guides who offer flexibility for working with first timers to "experts" in fishing.