Our Pets
Folks in Cooper Landing love their pets. And at ARC, we love our animals. But just to clarify before we go any further: we love our pets, not yours. So when visiting our facility, please leave your animals at home. We do not allow pets in our rental cabins and being left all day in your car (especially on a hot day) is just really lame for your four-legged best friend.
Capella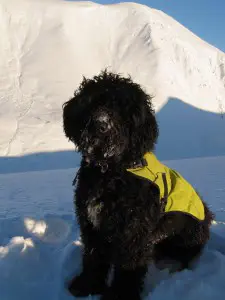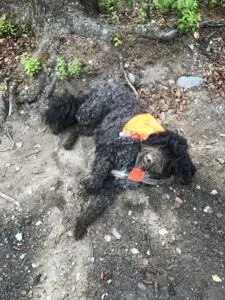 One word. Goof. Well two. Sweet Goof. She's a love bug and likes her pats, rubs and any attention you give her. She has been mistaken as a bear a couple times, so since she is loved so much, we have a tendency to decorate her in bright colors so hunters know better! Capella can be found in two places, sitting in the vans on hot days, or in the dirt if she has just had a bath. She got the nickname "Smelly" for a reason!
Mopah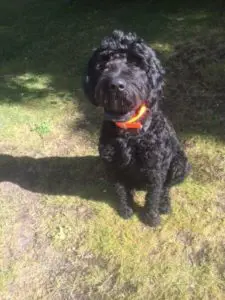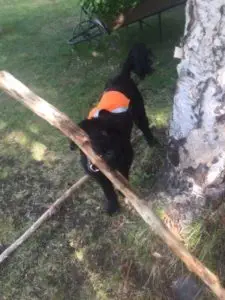 Mopah is the new puppy of Alaska Rivers Company! He is a mix between a black poodle and a golden retriever, making him a golden doodle. His number one goal in life right now is to be Capella's best friend. He's still working on it though…
Brook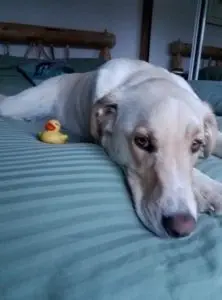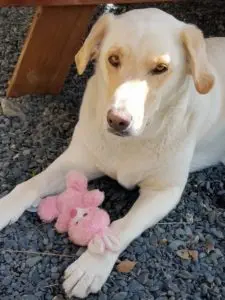 Brook is a mix between a golden retriever, yellow lab, and husky. You know what that means, absolutely adorable and hyper! She loves chase after bugs and beg for as much food as she can. If you pick up a stick with her around, be aware that you'll have a new best friend. But no promises that she's gonna return it back to you once she gets ahold of it.