About Alaska Rivers Company
Our roots lie deep in the Kenai River. Alaska Rivers Company was one of the first oar powered outfitters to run on the upper Kenai River, dating back to 1974. For over 40 years we have built our operations to be based upon delivering superior personal service, hiring only the best guides and using the highest quality, highly maintained equipment to share the Kenai River with our guests.  We are proud to offer Alaska river rafting trips,  Alaska guided fishing and Alaska cabin rentals all on the beautiful Upper Kenai River and thru the Kenai National Wildlife Refuge thru our special use permits.
As one of the largest and locally owned rafting companies on the upper Kenai River, Alaska Rivers Company is uniquely positioned to provide you a spectacular vacation or quick getaway that you will treasure forever.
Download the Alaska Rivers Company Brochure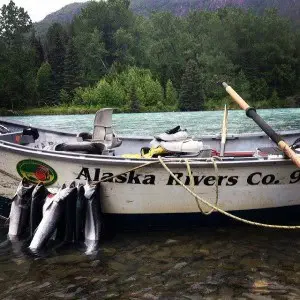 .
Mission Statement
Although ARCs operations and reputation has grown over the last 40 years, our ongoing mission has remained the same.
We strive to enrich people's lives by providing outstanding adventure experiences. Our goal since 1974 has been to help people of all ages enjoy the best outdoor experience of their lives. We personally encourage and actively support awareness, deeper appreciation and preservation of our natural ecosystems. Our trips are great adventures that emphasize heighten attentiveness to human impact on the environment.
Alaska River Company's Goals
To maintain sustainable growth at all levels of our operations
To operate responsible tourism
To give the highest quality of service possible to our clientele
To involve our local community in our programs
To conserve and protect the environment and all that lives within
To provide ongoing training for our staff and guides