Enjoy the Tranquility
of the Upper Kenai
Fishing on the Upper Kenai River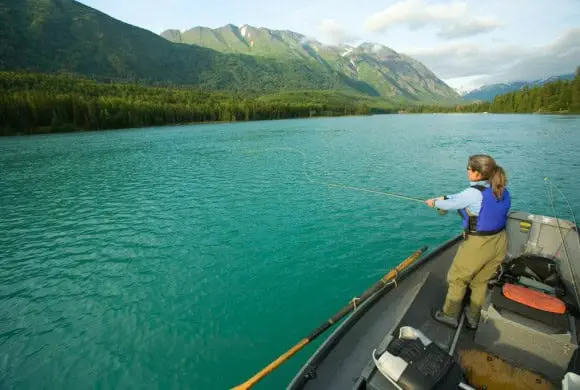 Let us take you away from the crowds and into some of the most productive trophy fishing waters in the state – all amid the Kenai's dazzling mountain scenery.  Alaska Rivers Company specializes in guided fishing on the upper Kenai River and has the special use permit for guiding thru the Kenai National Wildlife Refuge for the famous sockeye (red) and coho (silver) salmon, Dolly Varden, and trophy Rainbow Trout. Rainbows are carefully handled, photographed and released. We supply all the equipment and gear you need on your Kenai River fishing trip.  Fly fishing is one of our favorite past times and enthusiasts of all levels are welcome.  We also can cater to anyone who is interested in Spey casting because "you don't know until you throw".  We also have no problem catering to good old spin fishing and welcome fishermen and women of all levels.  We thoroughly enjoy taking kids fishing and specialize in teaching children the art of the cast and and the fun of the tug!
Our Fishing Trips
Half Day (4-hr) Kenai River Fishing
Our guide will get you into plenty of productive water as you drift fish with stops at key locations for bank fishing.
Rates:
Adults: $190 per person
Children 12 & Under: $175 per person 
Full Day (7-hr) Kenai River Fishing
Savor this fishing paradise with a full day of Kenai River fishing. You'll have more time in the best spots and get a chance to work the backwaters and gravel bars that make this river an angler's dream. Plus, you'll take home memories to last a lifetime.
Rates:
Adults: $290 per person
Children 12 & Under: $275 per person 
Canyon All-Day (8-hr) Fishing
Add the thrill of the Kenai Canyon to your full-day adventure. You'll enjoy eight more miles of river that get less fishing pressure – and deliver more frequent wildlife sightings.
Rates:
Adults: $325 per person
Children 12 & Under: $300 per person 
Be Sure to Call us for Information on Our Special Rates & Discounts!
All Fishing Trips Include
Experienced and professional fishing guides
Aluminum drift boats
Flies, leaders, weights and necessary tackle
Fly and Spin equipment provided
Hip waders, rain gear and life vests.
Return transportation to Alaska Rivers Company
We understand that sometimes you want to use your own equipment and we have no problem with you bringing your own fishing gear, rain gear, and/or chest waders if you would like.
Fishing Trip Requirements & What You Should Bring
Arrival – Please plan on arriving a half hour before your departure time. We  are required by Alaska Department of Fish and Game and the Kenai Peninsula Wildlife Refuge to complete some minor paperwork that requires your fishing license information. We also need time to make introductions, gear up and briefly  cover fishing and boating safety requirements.
Fishing License – An Alaska fishing license valid for the day of the charter is required. Please purchase your fishing license in advance of your scheduled trip. Click here to buy your license online!
Warm Clothes – We recommend that you dress in layers. Try to bring wool or polar fleece as cotton holds in water and becomes uncomfortable when wet. A hat, gloves and non-cotton socks are also recommended.
Rain Gear – Rain gear will be provided, but your own may be more comfortable.
Polarized Sunglasses – We recommend bringing polarized sunglasses, if you have them.
Camera – Camera gear is encouraged and there is ample dry storage on the boat. You are responsible for your own equipment and we recommend that you keep it in a dry storage bag.
Food – Please bring a hearty snack or lunch for your rafting or fishing adventure.