S.U.P With Us at Alaska Rivers Company!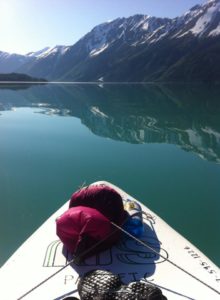 Join us for Paddle Boarding on Kenai Lake! It's one of the many new things to do in Cooper Landing. We offer introductory lessons for those who have never been on a board before, or need to brush up on their skills. For the more experienced paddler, we have half and full day trips to spend out on the lake. It's a great way to spend the morning, afternoon, or full day with your family! All trips are weather dependent. Contact our office for reservations.
Yes, you will get a little wet, but you will be really surprised how dry you can actually stay for being so close to the water.  Our inflatable paddle boards and inflatable kayaks have amazing stability and make for a very safe and less splashy experience.  People who never have been on them before are known to comment on how much more stable our boats were than they thought they were going to be.  Very rarely do people actually fall off, and when they do it is super easy to just get right back on.  Plus you will be wearing a leash on your ankle so the boat can't get away from you.
No, as a matter of fact it is quite easy to do especially as you become more comfortable in a very short amount of time.  Most SUP riders are standing up and paddling within the first ten minutes having never done it before, if they choose to try.
"What if I don't want to stand up and paddle?
You don't have to. That is the number one advantage of paddle boarding!  Paddling a paddle board from your knees with a kayak paddle is very easy, stable and a super fun activity.  We have special SUP paddles that can be both a stand up paddle with one blade or a two piece kayak paddle.  All with the quick switch of the handle.  Sometimes even experienced SUP riders paddle on their knees we find it is a good way to rest different muscles.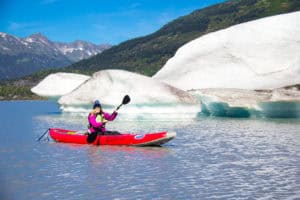 "Wouldn't a hard shell kayak be better?"
Everyone has there own preferences but we find that inflatable kayaks are safer, more stable, and extremely comfortable.  In the worst case scenario and you tip over first you have a floating object to hold onto, and it is very easy to flip the boat back over and hold onto the side and kick your way in.  Way easier than you think it is going to be. Yes they are a little slower than a hard shell, but come try an inflatable for yourself and experience the difference.
Our Stand-Up Paddle Board Trips
Beginner S.U.P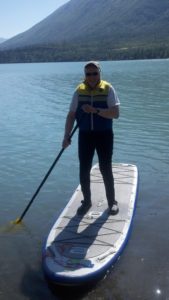 Never done Stand Up Paddle Boarding before? Not a problem! At Alaska Rivers Company, we offer a beginner 2 hour paddle board tour for those who have always wanted to try it. Your guide will take you through the beautiful turquoise color of the famous Kenai Lake.
Rates:
Adults: $65 per person
Children 12 & Under: $32.50 per person
Half Day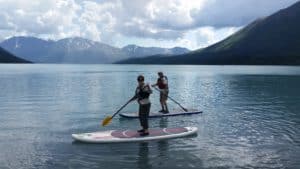 If two hours isn't enough, we offer our half day trip which is still great for beginners. The 4 hour tour gives us time to take in the outstanding views of the Kenai Mountains, beautiful waterfalls and explore some of the lake shore beaches that make this a paddle boarding paradise. During this trip, we will provide a light snack.
Rates:
Adult: $125 per person
Children 12 & Under: $62.50 per person
Full Day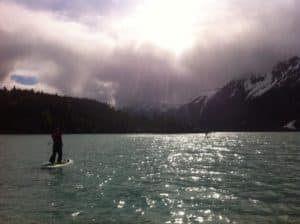 Want to get out of the house for the day? Alaska Rivers Company can do that for you. Our full day tours are perfect for those looking for an all day customized S.U.P adventure with lots of time for short hikes and beach exploration. On this trip we will provide a light snack as well as lunch.
Rates:
Adult: $225 per person
Children 12 & Under: $112.50 per person
Come experience the thrill of propelling yourself across Alaska's majestic waters one blade stroke at a time.  Our Stand-Up-Paddle board (SUP) and inflatable kayak tours give you an opportunity to see the beauty of Alaska with a whole new perspective. The experience of paddling yourself across a lake, weaving among icebergs, listening to just the sound of raw Alaska is one you don't want to miss.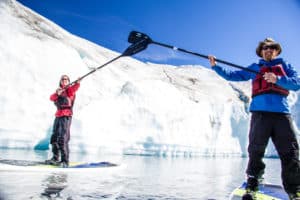 Our tours are great for both the novice paddle boarder with no experience to seasoned SUP veterans looking for a new venue.  We will cater the trip to your abilities and comfort levels to make sure you feel safe and are having fun.
Depending upon the winds on the lake and the groups comfort and experience level we will run some of our SUP tours with the assistance of a raft.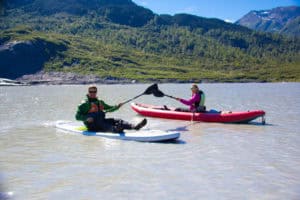 This allows us to have a safe and enjoyable experience while having the comfort of knowing the guide and raft is right there to get you if you have any problems or get tired of paddling.  This is a great activity for families to do together. some want to paddle board or kayak while others don't want too.  We can all go together, some in the raft and some paddling, a super fun way to spend the day together making memories to last a lifetime.  Plus this allows us to get GREAT photographs of each other!
Prices: (includes train ticket from Portage)       
Spencer Lake Iceberg Paddle: $200 adults  – Kids 11 and under: half price
*Additional cost will be applied if riding the train from Anchorage or Girdwood*
* This trip could be changed to the "Ice to Ocean" Placer River float due to high winds on Spencer Lake that could prevent us from using SUP or kayaking.  We will let you know as early as possible if we will be switching to the float option.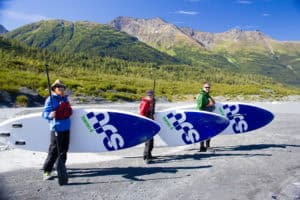 *All trips include an experienced guide, wet suits, splash gear, water socks, footwear, dry bags and all safety gear.
**For those who may not feel like paddle boarding but would still like to join, we can accommodate a single/tandem inflatable kayak.